Click on a small bar graph to open a larger version of it. In the opened chart, click individual bars to select/de-select samples.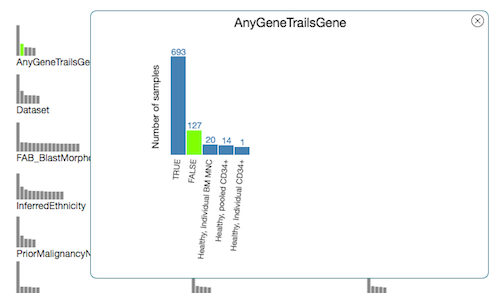 If you want to add another category, you may decide whether to combine selections across categories with "or" or "and." Note that within the same category, selections will always be combined with "or." It is only across categories that the combination method can change.
When you have chosen your desired subset of samples, give it a label, if desired, and click

and the subset will be the only samples that appear throughout Vizome for the current browsing session.
After saving one group, you will have the option to repeat the steps to save another group, in order to compare two groups of samples across Vizome. Note that the two groups must be composed of different samples. If any samples in the second group are already included in the first group, the second group cannot be saved.

You will see a notification appear at the top of the page, summarizing the current set of global filters.